Oakland Athletics at Texas Rangers 9/14/22 - MLB Picks & Predictions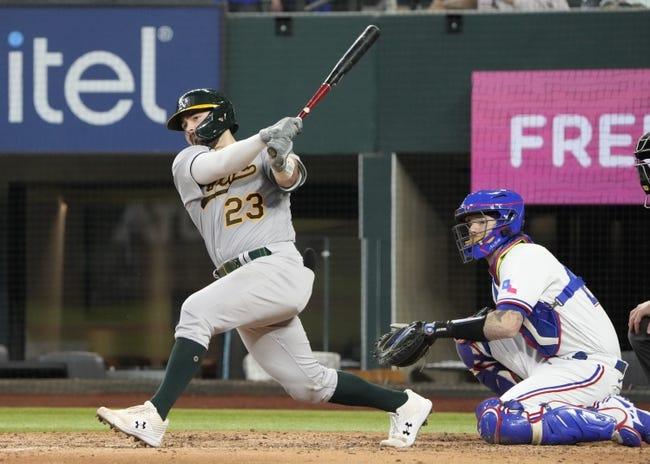 This Wednesday night September 14th 2022 8pm the Oakland Athletics are in Arlington, TX to face the Texas Rangers in Globe Life Field. Stay tuned we've got you covered on all the best betting angles here at Picks and Parlays your leader in free baseball betting picks!
The Oakland Athletics are batting at .215 with 879 hits for 420 runs and 104 home runs. Batting leader for the Atheltics is Sean Murphy with a .244 average for 63 runs batted in and 18 home runs.
The Athletics are pitching a 4.44 ERA and 1.32 WHIP with 1024 strikeouts. Listed starter for the Atheltics is JP Sears with a 3.78 ERA, 1.12 WHIP, and 108 strikeouts, allowing 139 hits and 19 home run thru 152.1 innings pitched. 
The Texas Rangers are pitching a 4.06 ERA, 1.31 WHIP, with 825 strikeouts allowing a .241 OBA. Starting pitcher for the Rangers is Dane Dunning with a 4.39 ERA, 1.44 WHIP, 124 stikeouts thru 143.2 innings pitched.
The Rangers are batting a .239 average with 824 hits, 460 runs and 126 home runs. Batting leader for the Rangers is Corey Seager with a .249 average 23 RBI and 54 home runs.


We think the Rangers will win this game. The Rangers are the better team and have home field advantage. We think the Rangers win this game easily against the struggling As who dont travel well at 24-36 on the road. Our best bet is the Texas Rangers. Finals score prediction the Texas Rangers win covers the spread and the total goes over 6-3.