Oilers at Blackhawks 10/14/19 - NHL Picks & Predictions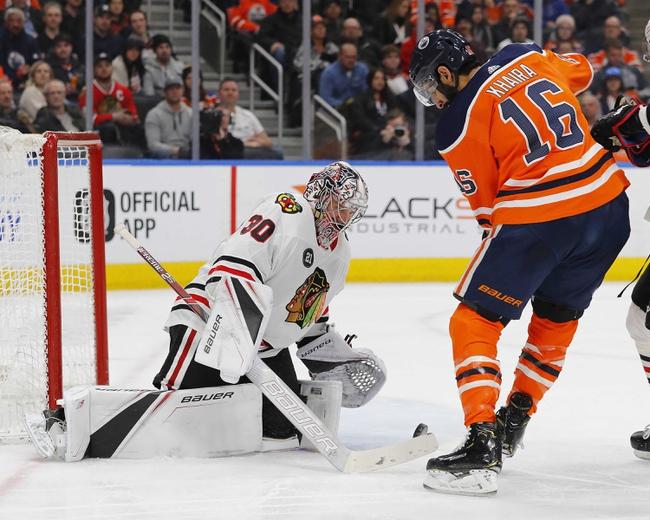 On Monday, the Edmonton Oilers look for their sixth straight victory when they visit the Windy City to play the Chicago Blackhawks. The Oilers defeated the New York Rangers 4-1 on Saturday for their fifth straight win to open the season. Connor McDavid scored to break a tie and Leon Draisaitl scored a pair of goals and assisted on another to help lift the Oilers to the win.
Chicago has lost each of its first three games played following its 3-2 overtime loss to the Winnipeg Jets on Saturday. Brent Seabrook and Brandon Saad scored for the Blackhawks in the loss. Robin Lehner debuted in net for the Blackhawks and made 30 saves in the loss as the Blackhawks fell to 0-2-1. Lehner was a Vezina Trophy last season last season while with the Islanders. 
James Neal leads Edmonton in goals scored with seven, while Connor McDavid leads the Oilers in assists with eight and points with 12. In net, Mike Smith is 3-0-0 with goals against of 2.67 and saves percentage of .907. Edmonton is scoring an average of 4.20 goals per game while allowing an average of 2.60 per game.
Andrew Shaw leads Chicago in goals scored with two. Patrick Kane is the assists leader with three and points leader with four. Corey Crawford is 0-2-0 with goals against of 4.63 and saves percentage of .875. Chicago is scoring an average of 3.00 goals per game, while allowing an average of 4.00 per game.


Edmonton is off to a terrific start having won each of its first 5 games with each of the last three on the road. Connor McDavid has scored 12 points through the first 5 games for the Oilers. The Oilers have won 6 of the last 8 on the road. Chicago has yet to win this season through three games. Final Score Prediction, Edmonton Oilers win 6-3