Jaguars at Bengals 10/20/19 - NFL Picks & Predictions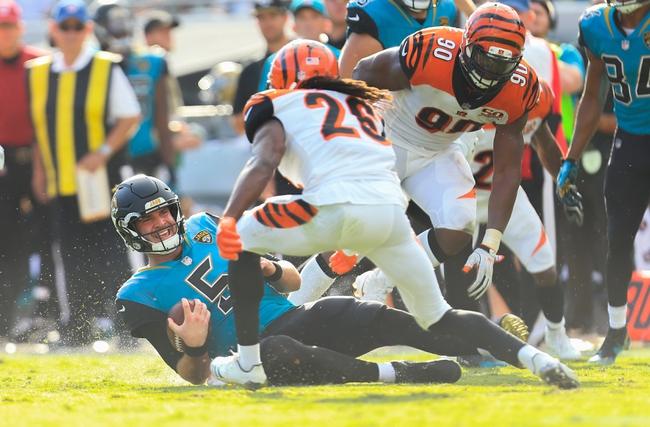 The Jacksonville Jaguars visit Paul Brown Stadium in Cincinnati, Ohio on Sunday to play the Cincinnati Bengals. The Jaguars lost their second straight on Sunday and fell to 2-4 after falling to the New Orleans Saints 13-6. Gardner Minshew threw for just 163 yards and one interception and the Jaguars gained just 226 yards. DJ Clark the leading receiver in the AFC was held to just 43 yards by the Saints. 
Cincinnati fell to 0-6 on the season following tis 23-17 loss to Baltimore. Brandon Wilson ran the opening kickoff back 92 yards for a Bengals touchdown, but Cincinnati would not score another touchdown until the fourth quarter. Andy Dalton threw for 235 yards and scored on a 2-yard run with 2:38 remaining in the game. 
Jacksonville quarterback Gardner Minshew II has thrown for 1,442 yards, nine touchdowns and two interceptions. The leading rusher for the Jaguars is Leonard Fournette with 584 yards and one touchdown. DJ Clark leads all Jacksonville receivers with 528 yards and five touchdowns. Ronnie Harrison is the leading tackler for the Jaguars with 39.
Andy Dalton has thrown for 1,647 yards, seven touchdowns and five interceptions for Cincinnati. The leading rusher for the Bengals is Joe Mixon with 252 yards. Tyler Boyd leads all receivers with 416 yards and one touchdown, while John Ross III has 328 yards receiving and three touchdowns. The leading tackler for Cincinnati is Nick Vigil with 51.


Cincinnati remains winless while Jacksonville is trying to remain a factor in the AFC South at 2-4 but just two games behind first place. Jacksonville has the much better defense of the two and a strong running attack with Leonard Fournette. The Bengals defense gave up over 150 yards rushing to Lamar Jackson and will be eaten up by Fournette on Sunday. Final Score Prediction, Jacksonville Jaguars win and cover ATS 27-14.