Wagner at Buffalo 9/2/2021 - NCAAF Picks & Predictions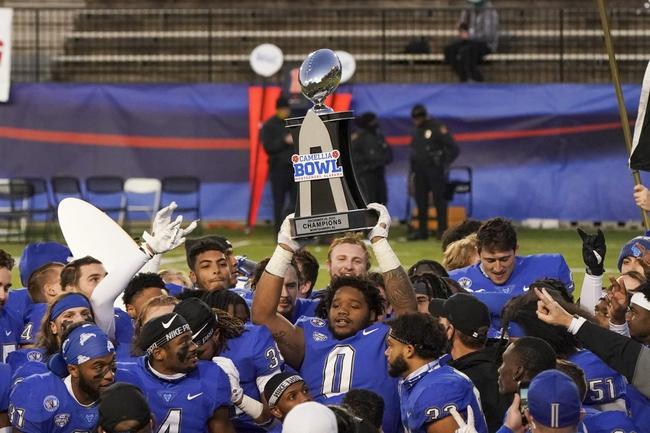 The Buffalo Bulls, coming off an excellent 2020 season where they fell short in the MAC Championship, will open their season at home with the Wagner Seahawks. Buffalo won their five conference games, lost 38-28 in the MAC Championship, and then found a win over Marshall in the Camellia Bowl. Wagner played just two games last year and lost by a combined score of 44-7 in those two games.
Buffalo had a great year last season and are 24-10 in their last three seasons, but return just four starters from last and lost starting running back Jaret Patterson. Patterson was the workhorse back last season and rushed for 1,084 yards and 19 touchdowns last season. His backup, Kevin Marks, will take over the lead role and had a great season last year with 750 yards.
The run-first offense just needs a steady quarterback and junior Kyle Vantrease is exactly that; he completed 62.3% of his passes for 1,300 yards and 7 touchdowns last year. Vantrease has thrown for 15 touchdowns to just five interceptions in his two years as a starter but he'll be under a new staff this season which could affect his development.
The Bulls' defense has been among the best in the conference in the last two seasons and finished last season allowing 21.9 points per game and 360 yards per game. Again, Buffalo is under a new coach and a new system, but with six returning starters we'll see if it's the talent or coaching. Buffalo does have a bit of a look-ahead spot, with Nebraska and Coastal Carolina on the horizon, but even an average MAC defense should be able to lock down the Seahawk offense.
Wagner's offense was miserable last season averaging just 3.5 points per game, they struggled to run the ball averaging just 2.7 yards per carrying, and scoring just one rushing touchdown. With just 172.5 yards per game, the offense was awful, they had three different starting quarterbacks. On the bright side, all will be back - and likely all three will get used. 
The defense wasn't much better, but just allowed 22 points per game in their limited sample size. They were able to hold opponents to just 330.5 yards per game, which isn't awful but when they trailed every game - for nearly all of it - it didn't really matter. Junior linebacker Titus Leop led the way last year, with 11 solo tackles four of which were for loss, and two forced fumbles. 


Buffalo loses a ton on the offense end, but they should still manage to run the ball effectively with three starters returning on the online, and a running back who rushed for over six yards per carry last season. They likely aren't going to contend for the MAC, but that shouldn't matter in this game against an outmatched Wagner roster. Buffalo still is able to find success running the football, and take care of it quarterback Kyle Vantrease throws for a few touchdowns. Final score prediction, Buffalo wins but fall short ATS 42-3.