Charlotte at South Carolina 9/24/22 - College Football Picks & Predictions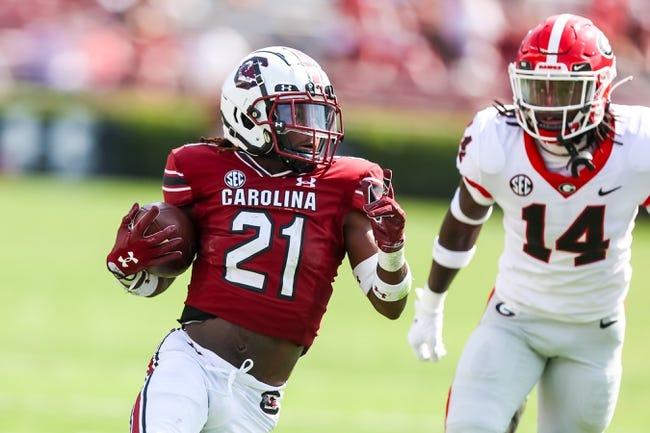 This Saturday afternoon September 24th 2022 6:30pm the NCAA football is back in action. The Charlote 49ers are in Columbia, SC to face the Soutj Carolina Gamecocks in WilliamsBrice Satdium. Stay tuned we've got you covered on all the best betting angles here at Picks and Parlays your leader in free sports betting picks!
The Charlotte 49ers are 1-3, 0-2 on the road. Offensively the 49ers are averaging 289.5 passing yards, 97.3 rushing yards, and 25 points. Defensively the 49ers allow 320.3 passing yards, 243.3 rushing yards, and 45.3 points.
Key players for the are Quarterback Chris Reynolds completing of passes for yards, touchdowns and interceptions. Runningback Shadrick Bryd with 46 carries for 162 yards and 0 touchdowns and Receiver Elijah Spencer with 16 receptions for 319 yards and 1 touchdowns.
The South Carolina Gamecocks are 1-2, 1-1 at home, sitting in 7th place in the SEC East. Offensively the Gamecocks are averaging 272.3 passing yards, 70.3 rushing yards, and 24 points. Defensively the Gamecocks allow 204 passing yards, 234.3 rushing yards, and 35.3 points.
Key players for the Gamecocks are Quarterback Spencer Rattler completing 60 of 101 passes for 721 yards 2 touchdowns and 5 interceptions. Runningback Juju McDowell with 21 carries for 82  yards and 1 touchdowns and Receiver Antwane Wells Jr with 15 receptions for 243 yards and 1 touchdowns.


We like the South Carolina Gamecocks to dominate this game. We think the Gamecocks being used to tougher competition in normal league play will be too much for the Charlote 49ers to handle this Saturday. We think the Gamecocks lead this game from start to finish and covers the -23. Our nest bet is SCAR -23. Final score prediction the South Carolina Gamecocks win covers the spread and the total stays under 44-17.