Texas A&M vs Arkansas 3/12/22 - College Basketball Picks & Predictions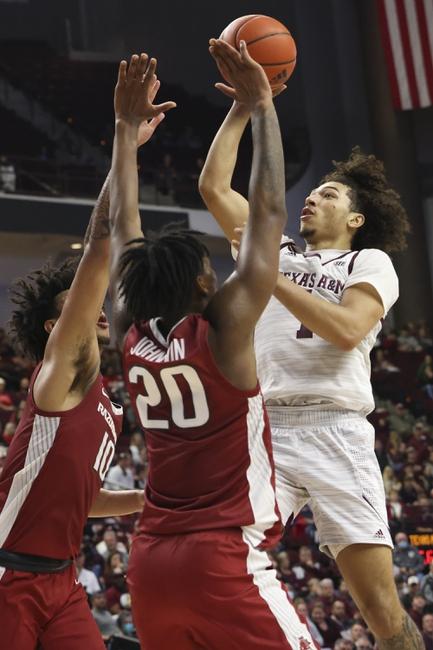 This Saturday afternoon March 12th 2022 1pm EDT the NCAAM hoops action is back at cha folks. We've got the Texas A&M Aggies in Tampa FL to face the Arkansas Razorbacks in the Amelie Arena. Stay tuned we've got you covered on all the best betting angles here at Picks and Parlays your leader in free sports betting picks!
The Texas A&M Aggies are 22-11, 10-9 in conference sitting in 4th place in the SEC West. Offensively the Aggies are averaging 73.1 points, 35 rebounds and 14 assists. Defensively the Aggies are allowing 66.7 points, and are averaging 3.7 blocks and 10.3 steals.
Key players for the Aggies are Quenton averaging 13.5 points, 3.3 rebounds and 1.5 assists and Tyrece Radford averaging 9.1 points, 5.6 rebounds, and 1.3 assists.
The Arkansas Razorbacks are 25-7, 14-5 sitting in 2nd place in the SEC West. Offensively the Razorbacks are averaging 77 3 points, 38.5 rebounds and 14.2 assists. Defensively the Razorbacks are allowing 68.2 points, and are averaging 4.1 blocks and 7.7 steals.
Key players for the Razorbacks are JD Notae averaging 18.8 points, 4.6 rebounds and 3.3 assists and Jaylin Williams averaging 7 points, 8.5 rebounds, and 3.4 assists.


The Aggies and the Razorbacks always bring the best out of each other and will max each other out as usual. The over is 8-2 in the Aggies and Razorbacks last 10 games head to head. And both teams are trending  towards the over in the over, which is 6-4 in both the Razorbacks and Aggies last 10 games. Final score prediction the Arkansas Razorbacks win the Texas A&M Aggies cover the spread and the total goes over 73-71.