Northeastern at Towson 3/6/22 - College Basketball Picks & Predictions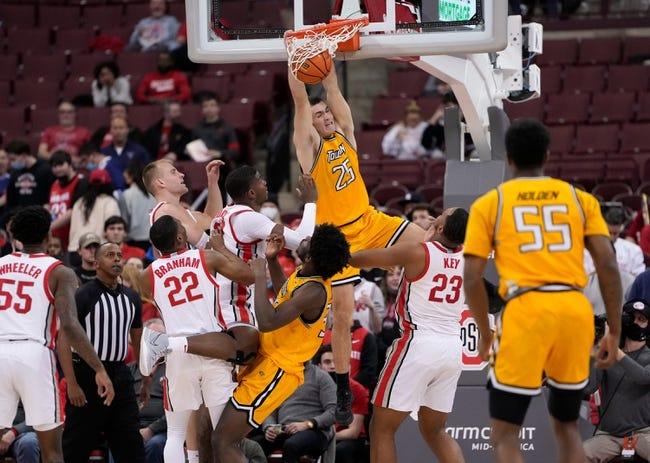 The opening game of the CAA conference tournament will take place Sunday afternoon as the Northeastern Huskies take on the Towson Tigers. Northeastern has been abysmal all season coming into the tournament 9-21 on the year of the losing four of the last five games played to end the season. Northeastern lost their final game of the regular season 67-54 to Elon after shooting only 34.5% from the floor to score 54 points in 40 minutes.
Jason Strong was the biggest spark for the Northeastern offense scoring a team high 14 points on five of 14 shooting in 37 minutes of action. Jamyl Telfort chipped in 13 points is the only other player in double figures and Nikola Djogo added seven points and a team high 8 rebounds.
The Towson Tigers come into the conference tournament after finishing the season as the top team in the conference riding a seven game win streak. Towson beat Delaware 69-57 in the final game of the regular season after scoring 69 points on 44.3% shooting from the floor.
Offensively this season the Tigers have averaged 73.9 points per game on 45.7% shooting. Nicolas Timberlake leads the Towson offense this season as one of four players every double figure scoring 14.3 points per game on 44.3% shooting. Cameron Holden adds in a second best 13.6 points to go along with a team leading 8.1 rebounds and Charles Thompson chips in 10.9 points as the third leading scorer.


Towson has been the best team in this conference all season and will continue to roll Sunday afternoon. Look for the Towson depth and talent to overwhelm Northeastern leading to an easy opening round wind. Take Towson to do enough to move on to round two on Sunday. Final Score Prediction, Towson wins 77-61.