2021 Masters 4/8/21 - PGA Picks, Odds & Betting Predictions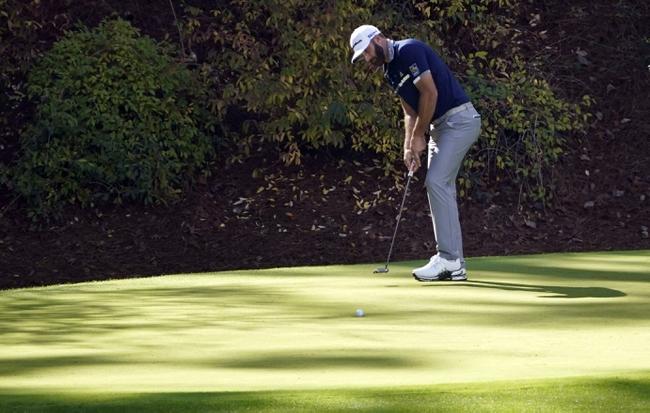 Golf's first of four majors tees off on Thursday. The 85th edition of the Masters at the Augusta National Golf Club in Augusta, Georgia will have the best in the world on hand. Defending Champion Dustin Johnson returns and is the +950 favorite while Bryson DeChambeau and this past weekend's winner Jordan Spieth are second in odds at +1150.
This is the second time the Masters has been played in the last six months due to the pandemic and Dustin Johnson is attempting to win back-to-back Green Jackets but that has not been done since 2002 when Tiger Woods won two straight. However, Jordan Spieth is coming off a victory at the Texas Open on Sunday for his first title on the PGA tour since 2017 and will be one to watch.
Many other top-ranked golfers will tee off on Thursday including Rory McIlroy, Brooks Koepka, who is returning from an injury, John Rahm, Justin Thomas and Collin Morikawa amongst many others. Golfers wait with great anticipation to tee off at Augusta National in April. Last November, after the Masters was delayed seven months, Dustin Johnson finished 20-under to win going away.
The Augusta National Golf Club is a 7,474-yard par 72, well known for Amen Corner that consists of the 11th, 12th and 13th holes. All fairways are cut in the same direction, which is towards the tea boxes, therefore when balls land they tend to stop quicker than on many other courses, making the course longer than it really is. The short par 3 12th has cost many a player a title as tee shots directly over the water at a bunker the size of a dime tests the best of nerves.
Top 20 Odds to Win 2021 Masters
Dustin Johnson +950
Bryson DeChambeau +1150
Jordan Spieth +1150
Jon Rahm +1250
Justin Thomas   +1250
Rory McIlroy  +1900
Patrick Cantlay  +2050
Xander Schauffele  +2600
Brooks Koepka  +2800
Collin Morikawa  +3150
Daniel Berger +3500
Patrick Reed  +3500
Paul Casey +3500
Webb Simpson  +3500
Tony Finau  +3500
Viktor Hovland  +3500
Cameron Smith +3500
Matthew Fitzpatrick +4000
Sungjae Im  +4150
Tyrrell Hatton +5000
Jordan Spieth is second in odds to start the week at +1150 and is coming off a victory in the Valero Texas Open. Spieth won a green jacket in 2015 and has won three majors overall as well as a Tour Championship title. Spieth over the last 28 rounds played at Augusta National has more total strokes gained on the course than any other golfer. With his momentum from winning this past weekend Spieth will win another green jacket on Sunday. Final Pick, Jordan Spieth +1150